5 Things You Must Do To Prepare Your Landscape for the Winter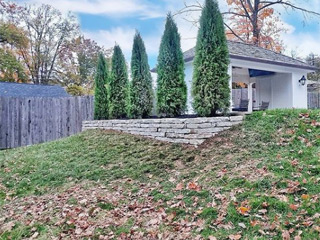 Without preparation, cold weather can cause significant damage to your landscape. Putting your yard and plants to bed properly before winter hits is one of the best things to ensure a beautiful, healthy, and thriving spring landscape. As experienced landscapers, we at Thrasher Landscape Inc. know that your landscape requires proper pre-winter care.


TIPS TO PREPARE YOUR LANDSCAPE FOR WINTER
Here are some simple yet effective ways to prepare your landscape for winter:


1. TREAT PERENNIAL WEEDS
Early in the autumn, annual and perennial weeds (such as plantain, sheep's sorrel, dandelions, clover, and others) continue to flourish. They are fed throughout their growth to ensure they have all they need before winter hibernation. Perennial weeds are more receptive to pesticide application just before frost.

Even though the weather has frozen over, you should still monitor the weeds for signs of new growth. You shouldn't spray them if you observe blackening or frost damage; instead, wait until new growth appears. Wait a few days if the damage is minimal and the leaves are still green; then apply the herbicide.


2. REMOVE ANNUALS
Annuals require a lot of water to be lush and gorgeous, but with the proper irrigation, they should last till the frost. The plants will quickly begin to droop and wilt after their first cold. This is unfortunate, but your yard will look as good as new with fresh yearly planting in the spring. The next stage in preparing your garden for winter is to pull up your annual plants and get rid of them (perhaps in your compost pile).

If you have a variety of plant containers in your garden, now is the IDEAL time to empty the contents and turn them upside down for storage. As a result, they will be less likely to break and will be less likely to attract dust, grime, and other debris.


3. PLANT SOME BULBS
Tulips, crocuses, daffodils, and hyacinths, the earliest growers of spring, are planted in the fall, while summer annuals, with their rapid color boost, are put in right before the season starts. Choose your favorite spring color, take out the annuals till next year, and get those bulbs in the ground before it freezes. You can rest easy throughout the cold months knowing that your flower bulbs will spend wintertime establishing their roots and preparing for a brilliant spring display!


4. PROTECT THE SOIL AND TREES FROM THE FROST AND COLD
Applying mulch around trees can reduce heat stress on the soil and water evaporation. Cover flower beds and bushes with mulch. Planting young trees and shrubs in the fall is a terrific idea, but you'll need to take extra precautions to ensure their survival over the winter. Using snow fencing, enclose tiny trees to form a cylinder and fill them with leaves or straw. You can use burlap to cover shrubs. Remove these materials only in the early spring as it improves the soil's ability to retain heat and moisture and prevents weeds from sprouting the following year.


5. CLEAR DEBRIS AND RAKE LEAVES
Get rid of annuals and withering leaves in the fall, as it reduces the potential for pests and diseases to spread to healthy plants. Follow the out with the old - in with the new approach - it will help keep your landscape in excellent condition throughout the year.

As autumn progresses, the leaves will fall to the ground, creating a colorful carpet in your yard. Some people find raking leaves a fun autumn chore, but it's also crucial in preparing your grass for the winter. It's time to round up the kids, the rakes, and the hot cocoa and get rid of all those leaves. If you want to give your future seedlings a leg up, compost the leaf heaps you just raked.

The shifting of the seasons should not intimidate you. The changing seasons, chill, and falling leaves can remind us to appreciate what we have while looking forward to the following season's promise of renewal and rebirth. For more information on preparing your landscape for the winter, call the Thrasher Landscape Inc. team at 812-325-4594 or make inquiries and service requests via this Online Form.