Paver Walkway and Sidewalk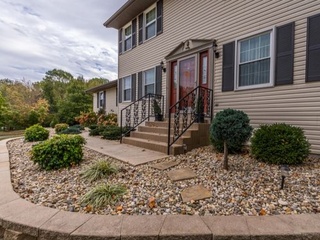 Paver walkways and sidewalks are hardscape structures that greatly benefit any landscape. They provide you and your loved ones with footpaths to ensure that your small plants won't get trotted upon. They also keep mud and dust away from your precious home.

Since these areas have the most traffic, it is imperative to choose the best type of pavers for your paver walkways and sidewalks.

We serve Bloomington and nearby areas in Indiana. Call us now at 812-325-4594 for a free assessment.


Paver Sidewalks Compared to Walkways
Walkway pavers are stones or other materials used for pathways to connect areas within a house or around a landscape, such as from one room to a kitchen, or from a house to a garden. They can also include stairs and corridors.

On the other hand, sidewalk pavers are paving stones used for areas that connect the house to streets. Outdoor areas are more open to weather changes, like intense heat, rain, and snow, so a paver sidewalk must be sturdier and thicker. A sidewalk also serves as a safe footpath for you and your family.


The Types of Walkway Pavers that We Recommend
Generally, stones are hard and durable materials, making them ideal for walkways and sidewalks. And, in case of breakage, they are also easy to replace as they are installed piece by piece. However, not all stones are suitable for such hardscapes. Here's a list of what Thrasher Landscape, Inc. recommends


Bluestone: There's just something enchanting and dramatic about a bluestone paver walkway or a paver sidewalk. It has that certain understated beauty and elegance that make a viewer stop and admire it. Bluestone is also very durable and weather tolerant. Its rough surface makes it an ideal material for the outdoors, so you won't have to worry about your kids having slipping accidents.


Flagstone: The flatness of this stone makes it one of the favorite materials of contractors and homeowners alike. It comes in a wide variety of colors, like brown, gray, red, gold, and blue. Flagstone is very long-lasting and easy to maintain. The colors can be mixed and matched to form interesting paver walkway designs.


Limestone: Limestone pavers are typically recommended for heavily trafficked areas due to their toughness, durability, and ease of maintenance. Limestone is no longer limited to the traditional "lime-colored" look. It is now available in blue, yellow, brown, and gray. Its dull luster can hide scratches from the paws of your pets, too.


Sandstone: Sandstone's versatility makes it ideal both for walkways and sidewalks. It is weather resistant, low maintenance and beautiful, too. It has a timeless appeal that is suitable for classical themes.


Reliable Installation of Walkways and Sidewalks
We at Thrasher Landscape, Inc. believe that you deserve more than what you pay for. Allow us to design and build paver walkways and sidewalks for your properties. You'll see the difference from how our polite masons and artisans will answer your questions about the pavers we use and why we have a preference for them.


The Thrasher Paver Plus Installation
Check out our exclusive high quality paver installation procedure.

We make sure that we are with you from the start of the project up to its completion. We also apply top-of-the-line sealers to make sure that your paver walkways and sidewalks last for a long, long time.

Contact us today via this form and we will be happy to assist you with any questions on our affordable paver walkway & sidewalk installation and design services.