Landscaping
Turn Any Land into your Dream Landscape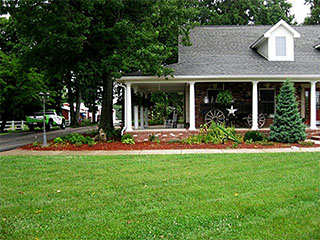 BE THE ENVY OF THE NEIGHBORHOOD!
Thrasher Landscaping, Inc. is responsible for beautifying many homes in the Bloomington, Ellettsville, Harrodsburg & Springville IN areas. Our experts can turn your dream into a reality and will do their best to not only meet, but exceed, your expectations.

Our promise is to provide clients with the best outdoor living spaces, no matter how creative the landscaping ideas are. We can offer you everything from the extreme to the tame when it comes to landscaping design. This is why we can boast of many satisfied landscaping customers over the years.


Landscaping Can Make a Difference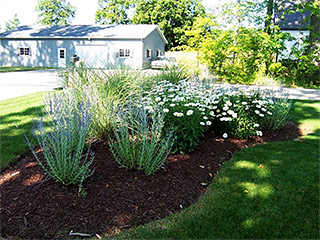 Having a well mowed lawn and back yard might be a quaint sight, but nothing can beat a well landscaped outdoor living space. Landscaping does not have to be outrageous. Your home can have landscaping that helps your home fit right into the neighborhood. Having patches of greenery or even a little pond in your backyard can change the look and feel of your home.

Landscaping is not an easy task. There are many simple landscapes that you can create all by yourself, but for a more extensive work it is best to hire the experts. We have the experience and the knowledge to best set up your outdoor living space in a beautiful and usable way.


Landscaping Installation and Design Services
We provide focused and cohesive landscaping services and solutions from design to installation to maintenance and everything in between. We are your one-stop-shop destination for all your landscaping needs. Our range of services includes:
Landscaping Installation: Our team is composed of professionals knowledgeable in the different aspects of landscape installation. We have certified landscape installers, certified chemical applicators, and experienced gardeners. We utilize our decades of experience, latest design software and our vast resources of many products and materials to bring to you just what you are looking for. We have partnered with the best manufacturers and suppliers in the industry to get the top-notch products that will guarantee the most durable and beautiful construction. From sofscapes, beautiful lawn installation and designs, to stunning paver patios, paver walkways and retaining walls, we offer a wide range of services.
Landscaping Design: Building a stunning landscape starts from building a concept. That's when landscape design comes into the scene. Our more than 20 years of experience in the business has made us landscape design specialists in our own rights. The team's concept of designing is to combine what you need or want to what is best and practical. We make sure to communicate extensively with each and every client, considering their exact needs and creating a tailor-made solution that's ideal for their circumstances. We can also provide a fully-rendered 3D landscaping design so that you can visualize what your new yard will look like in detail.
Landscaping Maintenance: Professional maintenance goes a long way in not just maintaining the aesthetics of your planting beds and lawn, but also in keeping the shrubs and trees healthier. It also helps you save money in the long-term by preventing the need for replacing the plants. We have the resources, experience, and expertise required to ensure that your landscape stays in its peak condition and form throughout the year. We develop affordable custom maintenance solutions and programs to address your landscape's unique requirements.

For more information on our landscaping solutions, please contact us through this form or call our office at 812-325-4594 to schedule a free lawn care quote and make your lawn look the best it ever has.