Paver Driveway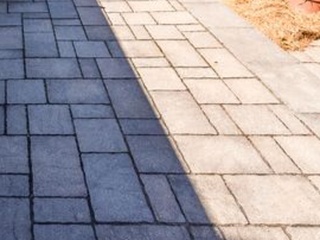 Commercial and residential property owners who wish to have an extraordinary paver driveway can simply turn to Thrasher Landscape, Inc. for help. As a trusted provider of landscaping design, installation, and maintenance services, we can make your driveway as much a focal point of your property as the main establishment itself. With us, every driveway project, whether it is made of bricks or concrete pavers, is an opportunity to showcase our exceptional craftsmanship and experience in creating hardscape structures that deserve a second look from guests or clients.


Paver Driveways: Worth Upgrading?
Some people argue that investing too much money on a concrete or brick paver driveway is not a sound decision. But here at Thrasher Landscape, Inc., we know too well that installing a paver driveway is not about wasting time and money on the part of a property owner.

There are several reasons why property owners like you should invest on a paver driveway. Here are some of them:


Pavers are very durable. Driveways will definitely see heavy traffic over the years, and will therefore be very prone to damages because of such exposure. With pavers, you're assured of years of service from your driveway because pavers are the toughest and most durable materials available. And with driveways, it's always a sensible move to go for the toughest materials possible.


Pavers are versatile and stylish. Who says that driveways can't be attractive? Not us! In fact, we always create stylish concrete paver driveways for our clients using various designs and shapes of pavers. Being partners with trusted suppliers like Belgard, we never run out of pavers with exciting colors, shapes, sizes, and designs that our clients request for.


Paver driveways increase a property's market value. Should you eventually decide to sell your property, you might be surprised that your paver driveway will be a deciding factor in its selling price. As it is, potential buyers are known to look for such features when considering how much they should pay for a property listing. And that is yet another great reason to invest on your driveway.


Our Premium Driveway Installation
Whether you want a concrete or a brick paver driveway to be built in your property, our expert masons and builders will assure you that it will be durable and beautiful.

With decades of experience installing, we have actually perfected a system called the "Thrasher Paver Plus Installation" method. This unique system is a better method of installing pavers for the driveways and a premium installation compared to traditional methods.


What is Thrasher Paver Plus Installation?
This system ensures durable and long lasting driveways. First, we compact the soil to ensure a nice, firm, and stable working surface. We then install geotextile fabric and follow it up with proper aggregates for the base. Once the base is done, our workers then install the pavers of your choice. We use polymeric sand in the paver joints to ensure that it will last long. We can also do the optional sealing procedure just to add an extra layer of protection to your paver driveway.


Contact Us Today
Let our experts turn your old, boring driveway into an exciting portal to your property. With our decades of experience creating stunning paver driveways for numerous Bloomington, Ellettsville, Harrodsburg and Springville clients, you'll surely be glad you made the right choice in hiring us.

Contact us today via this form and we will be happy to assist you with any questions on our affordable paver driveway installation and design services.