Landscaping Services in Ellettsville, IN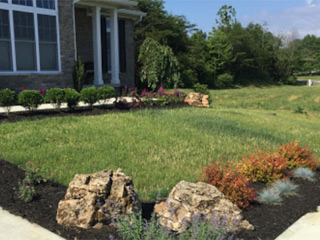 Having a sustainable landscape in Ellettsville, IN, involves selecting suitable plants, shrubs, and trees and installing good quality grasses on your lawn. Once professional landscapers install the right setting, you must also focus on landscape maintenance to ensure healthy and appealing living features.

We at Thrasher Landscape Inc are a leading company in the industry and offer various services, including landscaping, lawn care, hardscaping, pavers, driveway, walkways, and pathways. We also provide a comprehensive range of landscape maintenance and drainage services.


Landscape Maintenance
A well-kept landscape is a terrific way to make a favorable first impression on guests or visitors. Professional care is essential for preserving the appearance of your flower beds and lawns and maintaining the health of your shrubs and trees. Keeping a landscape clean, functional, and aesthetically pleasing needs a considerable lot of ongoing effort.

Therefore, you should only leave your landscape management needs to specialists like us, who have decades of experience. We offer the skills, experience, and knowledge necessary to maintain your landscape's optimal health and appearance throughout the year. Our low-chemical landscape care package may contain the following features:
Insect Control
Weed Control Fertilization
Lawn mowing and edging
Seeding or overseeding
Lawn aeration
Seasonal updating and garden coloring
Pruning, trimming, and shaping
Shrub and flower and shrub planting
Soil treatments
Tree care program
Spring and Fall clean-ups
Drainage
Soil treatments
Our teams can manage your grass, bushes, trees, other features, and hardscaping, such as pools, decks, and patios. We address all critical areas to guarantee that your landscaping remains pristine.

We offer economical tailored maintenance solutions that fit your landscape's particular requirements. Our company reduces your burden by doing all the laborious and technical tasks that qualified, and trained professionals can only perform. Our services allow you to spend more time on critical activities by saving you time.


Drainage
In addition to the visual characteristics, there are more factors to consider. The drainage infrastructure on your property is essential to a healthy and durable landscape. Our professionals never lose sight of the fact that a stable outdoor environment is dependent on a well-functioning drainage system. We engage in in-depth conversations with you to determine your needs and assess the area. Additionally, our specialists will comprehend which vegetation, masonry aspects, flowerbeds, etc.


Types of Landscape Drainage Systems
We guarantee that the yard drains are flawless and perform as planned. Based on the pattern, distribution, slope, and grading of the landscape, we include several types of drains, such as:


Channel Drains - These features are perfect for managing grass and patio overflow, and we also employ them to drain the sidewalk. They assist guide excess water and runoff away from the house and towards the city's main drains.


French Drains - If your landscape or garden has raised planter features, you'll also need tailored landscape drainage to direct water away from these places. French drains are exceptionally efficient in this regard. In these systems, we wrap landscape fabric over the drains, which we then cover with gravel and stones. This installation increases the permeability of the soil and prevents drain blockages.


Area Drains - These drains are ideal for low-lying regions and are connected to larger underground landscape drain age networks. Typically, they are installed in places with significant precipitation or landscapes with a high risk of flooding.
We ensure that you get high-grade landscape maintenance and drainage solutions within your budget. For information about our landscaping services, please call Thrasher Landscaping, Inc. at 812-325-4594. If you prefer to drop us a line, please use this Online Form, and we will call you back soon to discuss your requirements.