Lawn Care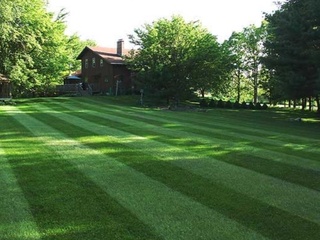 Proper lawn care does not require a PhD but it does require attention to detail as well as regular weed control, lawn maintenance and fertilization. Many people tend to underestimate the importance of having well-maintained, healthy grass that is free of weeds and guarded from insects and grubs. A gorgeous lawn can improve your mood and outlook on life. It's no secret that being in the great outdoors tends to have a positive effect on people. Great looking lawns also increase property values and curb appeal. Therefore, a lovely lawn is something that almost everyone wants to have on their property.

Your home will look and feel more magnificent if it has a beautiful, manicured lawn. However, a beautiful lawn won't stay that way for long if there's no one around to give it the care it needs. Specialists are needed for this job since it will take a lot of time and effort to do it yourself. Thrasher Landscaping, Inc. is a leading company in this field, and we offer specialized lawn care services. As a local operator, we can provide dependable and timely lawn care services. As far as lawn care is concerned, we strive to provide personalized solutions to all our clients. Our customers are very satisfied with their results….



"OUR LAWN LOOKS LIKE CARPET!"




– Satisfied Customer


As a market leader in this industry, Thrasher Landscaping, Inc. has a lot to offer; we are local to your area and can provide reliable and scheduled lawn maintenance services. We can take care of any lawn care job, and we'll make sure it's done well the first time. The lawns on private residences aren't as extensive as commercial sites. On the other hand, the yard spaces may get more significant usage since the owners may utilize them often. Because of this, we provide specialized lawn care and maintenance services for homeowners.


Customized Lawn Care Solutions and Programs
Our 5 application lawn care programs produce great results giving you a thick and healthy looking lawn. Our Organic Advantage program uses organic foods and uses less herbicide to achieve a weed free lawn making it safe for kids and pets. Our Premium and Organic Lawn care programs both include crabgrass prevention and quality weed control which help produce excellent results. As you can see, we provide a variety of lawn care choices to meet a wide range of different expectations as well as budgetary needs. We never compromise on quality, no matter which lawn care program you require. We treat one-off services the same way we do contractual projects: with thoroughness and speed.


Extensive Lawn Care Services
We work closely with our clients to develop a long-term lawn care service plan that fits their needs and budget and we never tack on any hidden or extra charges. Some of the custom lawn care services we provide can include:


Weed Control
Fertilization
Lawn aeration
Overseeding
Insect Control
and more...

Our objective is to get to know your landscape's specific requirements so that we can create unique plans that match your individual needs. We offer aeration and over seeding services, grub control and lime application as well. Our experts can help you decide what's best for your lawn and when to implement each service to get the healthiest, best looking lawn you've ever had.

For more information, please contact us through this form or call our office at 812-325-4594 to schedule a free lawn care quote and make your lawn look the best it ever has.