Paver Patio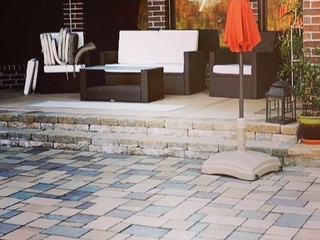 It's no surprise why a patio is the number one choice when adding an outdoor living space. It is functional, beautiful, and easy to build. Make it a paver patio, and it becomes a better choice. The use of pavers for flooring and wall is enough to create an ambiance that is both sophisticated and warm. Best of all, this material is known for durability and unique aesthetic appeal.

We serve Bloomington and nearby areas in Indiana. Call us now at 812-325-4594 for a free assessment.


Paver Patio Designs and Ideas
Paver patio designs are not limited to Spanish-inspired styles only. There are different paver patio ideas that can complement whatever style you prefer. Modern bistro patios, for instance, can be achieved by using curvy and upbeat colors. Rustic and country feel is possible by using pavers resembling natural stones. A sophisticated look can be made with shiny and perfectly polished pavers.

There is no limit to the available paver patio designs and ideas. Just tell us your preferences, and we will incorporate them into the design and construction of your patio


We Recommend Using Pavers
The versatility of pavers makes them the most recommended material for patio construction. They are available in different colors, sizes, and textures that can easily complement any patio design. Here are the common paver choices for your patio:


Brick/Clay Pavers: For Bloomington homeowners who want a classic patio, these are the paving materials that we recommend. The color option may be limited, but they won't fade easily even under harsh weather conditions.


Flagstone: This type of paving stone is recommended if you want an elegant patio. It is flat and used mainly for paving slabs. Besides patios, flagstone is common in walkways, roofs, and fences.


Concrete Pavers: What makes concrete pavers a popular choice for patios is their being more flexible in terms of design, shape, size, color, and texture. But since manufactured, the process of their creation is a very important factor to their quality.


That's why at Thrasher Landscape, Inc., we only use quality concrete paving materials from Belgard. This company is the most reputable manufacturer of concrete pavers in the country because of its premium products. Only an authorized contractor like us is allowed to use its products in paver installation.


Thrasher Paver Plus Installation
A genuinely durable and beautiful paver patio has to use superior materials. Besides that, they have to be installed with superior craftsmanship, too. That's why we developed the "Thrasher Paver Plus Installation" to create the best patio for our clients.


Using Geotextile Fabric
In our paver installation, we first compact soil. This compacted soil is covered with a geotextile fabric, which is basically a permeable fabric made out of a polyester or polypropylene material. It improves soil strength while protecting both the soil and the next layer.


Using Polymeric Sand for Grout
This next layer is formed with aggregates that serve as the real base for pavers. We don't use just any aggregates, but only the proper type. When the paver pieces are laid down, we use polymeric sand for grout. With such sand, your paver patio will last long even without the regular power washing. Sealing can be done for cleaner, more polished finish.
Paver Patios that are Built to Last
The perfect paver patio is possible with Thrasher Landscape, Inc. We have got the perfect team, the perfect product, and the perfect method, so you are assured of a durable and stunning outdoor living space that you can be proud of. Contact us anytime. We can work on a patio project anywhere in Bloomington and nearby areas in Indiana.

Contact us today via this form and we will be happy to assist you with any questions on our affordable paver patio desin and installation services.