Fertilization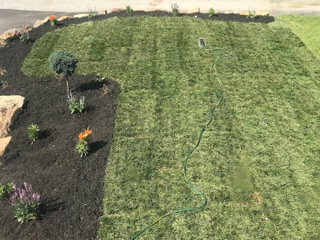 Every landscape needs regular maintenance to thrive and retain its resilience. Occasionally, property owners maintain only a few landscaping jobs, such as mowing and trimming, while critical duties such as fertilizing are neglected. This is where Thrasher Landscaping, Inc's fertilization plans come in. We are an industry leader and have completed commercial and residential landscaping work in and around Springville, IN, for years.


Residential Fertilization Solutions
It may be tiresome and time-consuming to do lawn and garden maintenance duties independently. The best way to guarantee that your plants and grass are properly maintained is to engage knowledgeable landscapers like us. We provide the most effective fertilizer applications and treatments and can include them in comprehensive landscape maintenance packages. This specialized task requires knowledge and skill.

Each plant is unique, and not all fertilizers are effective for all shrubs and grasses. Before treating your landscaping, we inspect your plants and bushes and use the appropriate products. Our company focuses on developing sustainable gardens and landscapes. A significant portion of this involves using organic fertilizers and pest control treatments, which are safe for humans and suitable for your plants.


Customized Fertilization Plans
We also design tailored residential and business fertilization strategies to ensure the health of your landscape. Untreated plants and lawns are more susceptible to insect infestations than healthier plants and lawns. Additionally, they are more resistant to insect and fungal infections.

When planning fertilizer programs, our landscapers consider various factors, including the sorts of flowers and plants, the type of soil, and the local climate. This approach guarantees that your landscape remains resilient, healthy, and beautiful. We spread fertilizer treatments over many months and feed the plants with organic plant food and weed control solutions.

The frequency and timing of these treatments are critical for plant health maintenance. When you approach us with your needs, our experts will visit your site to identify the types of vegetation there. They will also determine whether you have additional landscaping maintenance needs.

As previously said, fertilizer is generally included in planned landscape maintenance, including mulching, mowing, aeration, pest control, trimming, and pruning. We always use a comprehensive strategy so that your outdoor environment remains beautiful, healthy, and resistant to the weather.


Local Landscape Fertilization Professionals
We have the knowledge, expertise, and means to offer our clients the finest fertilization services. Our landscape fertilizer rates are competitive, which distinguishes us from other companies in the industry. If you are looking for skilled and experienced landscapers, you are at the right place. Our crew will impress you with its expertise, professionalism, and friendliness. They are organized and dependable, and they fertilize your landscape as needed. We always work with our clients, understand their requirements and expectations, working within their budget.

For detailed information about our landscape fertilization services, write to Thrasher Landscaping, Inc. through this Contact Us form or call us at 812-325-4594. We offer customized solutions to meet your landscape's requirements.