Hardscaping Services in Harrodsburg, IN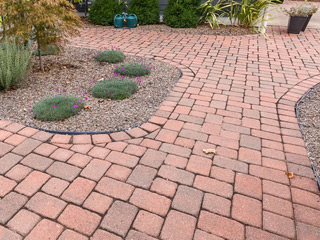 Maintaining the original beauty, functionality, and pristine condition of a landscape you've worked so hard to design is just as challenging as designing the landscape itself. We at Thrasher Landscaping, Inc. can assist you in creating the landscape of your dreams and ensuring that it continues to look and function beautifully all year long.

Hardscaping is a competitive industry, and many businesses provide similar services to those we do. However, we at Thrasher Landscaping, Inc. set ourselves apart by delivering comprehensive and reasonably priced support to homeowners in Harrodsburg, IN, and the surrounding areas.


Patios
Have you ever daydreamed about relaxing in the shade of a well-designed patio with a frosty drink in hand during the dog days of summer? Or where you might spend a beautiful evening with loved ones while taking in the sweet scent of the blossoming flowers? If you hire our professional patio installation and design team, your patio will be morphed into a beautiful outdoor sanctuary with elegant pieces made to embody the elements, giving you the kind of experiences, you've always dreamed of.

When designing and planning your patio, we will make sure to account for the placement of any fire pits or other outdoor living features you may want. The pavers we use to construct your patio will be among the strongest and most resistant to the elements, and they will also be among the most aesthetically pleasing options.


Pavers
You can't guarantee the longevity of your landscape without a hardscape that can withstand the elements. For the design and construction of retaining walls, patios, driveways, walkways, sidewalks, and other structures, a variety of components, such as bricks, pavers, concrete blocks, and natural stones, are utilized in landscaping projects.

We focus on providing clients with high-quality customized paver solutions based on their requirements. We can use our skills to make beautiful patterns and designs in your property's open spaces. We provide unbeatable value to our clients for every paving job, no matter the size or scope. You can be confident that the result will be beautiful if you choose suitable pavers and have them professionally installed by hardscapers like us.


Retaining Walls
We are experts at building retaining walls that serve a practical purpose while enhancing your outdoor space's visual appeal. Our skilled construction crew can plan and construct retaining walls for various purposes. In addition to improving the stability of your property, retaining walls can be used to add aesthetic value by allowing you to express your creativity through unique landscaping features. You can use them to enhance the look of your lawn, driveway, or walkway.

We build multipurpose seating walls along decks, pool decks, and patios for clients who want their outdoor space to serve multiple purposes. We have the experience necessary to construct a wall that serves as a design element and a defining feature of your landscape. Our staff of highly trained and educated professionals is here to answer any questions you may have about the materials and layout options available to you.


Customised Hardscaping Services
Our company is eager to take on projects of any size to help our valued clients realize their dreams for outdoor areas. With the help of our expert landscaping crews and lawn care specialists, you can have the most beautiful yard on the block. To minimize the impact on your daily routine, they will ensure that your property is always tidy and accessible by the end of each workday. We also have a maintenance crew that can keep your new landscape looking great all season long as it develops.

For more information on our hardscaping services in Harrodsburg, IN, get in touch with Thrasher Landscaping, Inc. via this Online Form, or give us a call at 812-325-4594, and we will get back to you within the shortest time possible.