Weed Control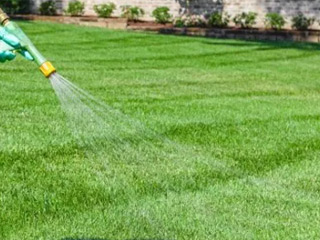 Thrasher Landscaping Inc. is an established landscaping company serving residential and commercial customers in and around Springville, Indiana. Our experts understand what it takes to offer our clients the cost-effective, efficient weed control solutions they expect from us.

These applications inhibit the germination of weeds in your lawns. It is a fantastic method for maintaining a lush, weed-free lawn and healthy plantings. The benefits of the treatment can last for roughly six months if kids, pets, or landscaping activities do not disturb the treated areas. Owners in Springville, IN must be aware that even the most effective weed-removal solutions can impact the grass, flowers, and bushes while eliminating weeds in the garden.

We are careful with our treatments so that no other vegetation on your site is harmed. Our approaches are scientifically proven and practical, and during this visit, we also de-weed the garden. Our staff will employ pre-emergence weed control measures even when they spread mulch as these organic products can sometimes contain seeds and spores that proliferate the outdoor spaces rapidly.


Landscape De-Weeding Solutions
Many individuals find it challenging to avoid weed growth in their gardens because weed seeds disperse swiftly via the air and settle in every nook and cranny of the yard or open areas. Eventually, property owners discover weeds overgrowing their lawns, gardens, and all other exterior areas.

When you call experienced landscapers like us, we will manage your weed control requirements and complete them per industry standards. Typically, most customers opt for landscape maintenance services, and we include weed control in the contracts. We know that timely treatment prevents the spread of weeds across your property and our landscape maintenance plans include weed control applications.


Scheduled Weed Control Applications
In addition to standard pre-emergent weed control, we offer post-emergence weed management services. The crew will conduct this work accurately, apply organic fertilizers, and do soil aeration at designated intervals. As a company with extensive experience in residential and commercial landscape maintenance, you can rely on us to build custom plans to meet your needs.

As previously said, weeds do not take long to spread across your landscape. We encourage clients to contact us if they see weeds growing in their outdoor areas. We are prompt with our response, and our specialists will visit your property, assess the topography, and propose the most suitable solutions.


Weed Control in Landscape
Our pricing for pre-emergent weed control is competitive, and we offer the highest quality, which distinguishes us from other local landscaping companies. Our services are reasonably priced, so you should never hesitate to contact us for your landscape care requirements.

Our experts are here to answer any questions and dispel any concerns you may have about the services you want. They will discuss their approach, present details on our products, and ensure that you grasp all aspects of the services. We offer weed control as part of our landscape maintenance plans and a standalone solution as required.

For detailed information about our weed control services, write to Thrasher Landscaping, Inc. through this Contact Us form or call us at 812-325-4594. We offer customized solutions to meet your landscape's requirements.