Benefits of Weed Control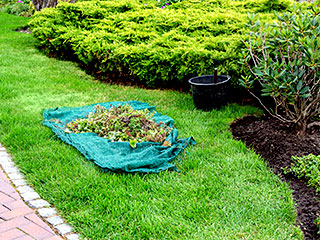 Weeds are incredibly detrimental to the health of the other plantings in your landscape setting. Not only do they sap all the nutrition from the soil but also use up all the water and choke the roots of the other plants. One of the best ways to make sure that this doesn't happen is to hire the services of a company that provides comprehensive landscape and lawn maintenance solutions. Most companies that offer these services include weed control as an integral aspect of their landscape maintenance solutions.


Custom Weed Control Services
If you are looking for a well established company that would be able to provide high-grade weed control solutions in and around Bloomington, Ellettsville, Harrodsburg & Springville IN, you need the kind of services that proven companies like Thrasher Landscaping, Inc offers. The operator has an excellent reputation in the industry and would be able to cater to your specific lawn care requirements.

They make sure that the weed control services are in line with the landscape requirements. Different types of weeds need different treatment, and only experienced operators have the skills, expertise and resources to tackle these jobs expertly.


Landscape De-Weeding Solutions
Most weed plant seeds become airborne and settle in various areas of the landscape. Soon they start to overtake your garden and affect the growth of your plantings. When you choose to hire a professional weed control company, the technicians visit your location at specific intervals and remove all the weeds systematically from the soil. As mentioned earlier, weeds hamper the growth of your plantings. They absorb all the water and nutrients from the soil.

When professionals handle landscape weed control for you, they include pre-emergent and post-emergent weed control services in them. These treatments are always conducted in tandem with fertilizer and soil aeration treatments at specific times of the year. An experienced company will always use the latest equipment in their work which helps to ensure that the yard weed control and other aspects of the lawn care management program are conducted systematically.

Regular weed control treatments go a long way in ensuring that your landscape does not have any of these harmful plants growing on it. If you have noticed weed growth in the landscaped areas of your home, it is crucial to call professional landscape maintenance experts for inspection. They will determine what the best plan of action would be and will make sure that all of the weeds are removed or treated appropriately. If any follow-up services are required, they will provide those as well.

Weed control for landscapes isn't something you can entrust to an inexperienced operator. You must sure that the company you hire is experienced and reputed like Thrasher Landscaping, Inc. they would be able to provide top-notch services at cost-effective weed control cost.