Custom Residential Fertilization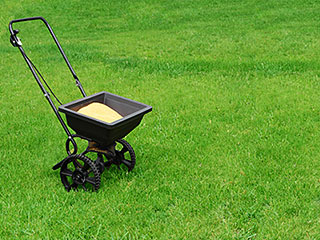 Lawns and plants require much more than basic mowing or trimming to keep them healthy right through the year. Only healthy plants and lawns can fight weed growth and survive over the long term. While proper lawn care isn't always very challenging, it requires regularity and attention to detail.

Every lawn care and maintenance plan includes various aspects such as trimming and fertilization. Having healthy grass that is entirely free of weeds and properly guarded against grubs and insects requires proper nutrition. When you have beautiful lawns, they are a pleasure to use and these spaces also increase the curb appeal and value of your property.


Residential Lawn Fertilization Services
It can become quite tedious and time-consuming to handle lawn and landscape maintenance yourself, and it is far better to hire the services of a company that would be able to provide customized solutions. In most instances, fertilization solutions are part and parcel of garden and lawn maintenance plans.

If you are looking for high-grade landscape fertilization solutions in Bloomington, Ellettsville, Harrodsburg & Springville IN, you need the kind of services that proven companies like Thrasher Landscaping, Inc. offers. The operator has an excellent reputation in the industry and would be able to cater to your landscape and lawn care needs. These experts will design fertilization plans that help to build the resilience of your lawns, trees and plants.

This makes them impervious to various pest infestations and other types of fungal and pest diseases. Using good quality fertilizers is a crucial aspect of this job. A reliable company will always make sure that they use non-toxic organic fertilizers with specialized formulations. Not only does this improve the appearance of the plants and lawns but their health as well.


Custom Fertilization Programs
Fertilization programs have to be customized to suit the needs of the specific landscaping setting we are dealing with. Experts in this field will always take into account aspects such as climatic conditions, local soils and type of plants and grasses before providing fertilization solutions. This attention to detail goes a long way in ensuring that all the living elements in your landscape get the attention and care that they need to withstand exposure to the weather every single day.

In most instances, expert's lawn care programs over several months which help you get healthy and thick lawns. Having a weed-free garden involves using pure herbicides and high organic foods that are safe even if you have children and pets in your home. Fertilization is never something that works in isolation. It needs to be used in conjunction with weed control and other landscape maintenance services such as aeration, mulching, pruning, trimming etc.

Lawn care and planting care isn't something you can entrust to an inexperienced operator. You must make sure that the company you hire for fertilization and other related services, is experienced and reputed like Thrasher Landscaping, Inc. they would be able to provide top-notch services at cost-effective fertilization cost.