How To Have The Best Landscapes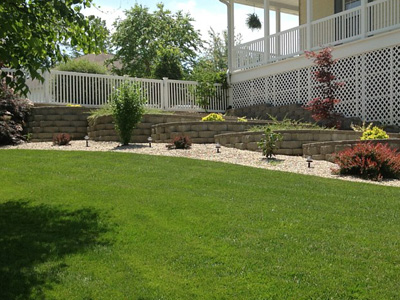 The landscaping of your property contributes significantly to its overall appeal. If the exterior spaces of your house or business feel repetitive or uninspiring, now is a perfect time to make some changes. Installing unique features outdoors is an excellent place to start.

However, you should seek the assistance of a reputable and well-established company, such as Thrasher Landscaping Inc., for such works. With years of industry experience, we can provide highly tailored solutions to residential and commercial clients in the region. Here are some pointers on how to have the best landscapes.


Landscaping
Today, property owners desire more than meticulously kept lawns, landscaping, and patio areas. They like exterior spaces distinctive to their house or business, considerably increasing the property's curb appeal and value. Because of this aspect, landscape design has become a sought-after service. Always look for a proven company with expertise in landscape installation and maintenance.

While proper installation is crucial, developing exceptional landscape designs in advance is essential. Amateurs cannot take on such projects due to the skills required in planning hardscapes selecting soil types, flowers and plantings, drainage, and irrigation installations, and more.

These components must work in harmony to create functional and visually pleasing environments. Skilled and experienced operators will always consider these factors while handling landscape design and installation projects. These landscaping services include conceptualization and planning to construction of hardscapes and softscapes.


Lawn Care
A well-kept lawn will enhance the appearance of your home or business, serving as the backdrop for many other features and installations. On the other end, lawn maintenance is demanding. This activity requires specific attention from experienced specialists due to the effort taken to accomplish it independently.

Look for a local lawn care company that provides reliable and scheduled lawn care services at cost-effective pricing. These professionals will tailor lawn maintenance plans and will provide comprehensive lawn care services, which include the following:
Mowing and trimming
Core aeration
Pre-emergent & post-emergent weed control
De-weeding
Organic fertilization
Mulching
Dethatching
Pest control
Seasonal lawn cleanups
Reseeding or resodding
Topdressing with compost
Landscape Maintenance
Most property owners hire landscape designers to create magnificent, unique landscapes. However, having beautiful plants and trees and distinctive masonry elements is insufficient to assure the long-term viability of your outdoor areas. After constructing the landscape or yard, it is vital to ensure that the appropriate landscape maintenance is performed to maintain your outdoor areas' vibrancy and health for years to come.

You can choose between one-time services and annual maintenance contracts. The latter services are more cost-effective long-term strategies. While many businesses provide basic packages, the majority will also build custom landscape maintenance plans for you that include both softscapes and hardscapes or masonry elements.

For more information and tips on having the best landscapes, please call Thrasher Landscape Inc. at 812-325-4594. You can also send us your service requests and inquiries via this Online Form. Our experts will help you with the information you need and provide customized residential and commercial lawn care services at an affordable cost.