Lawn Care Vs Landscaping: What's The Difference?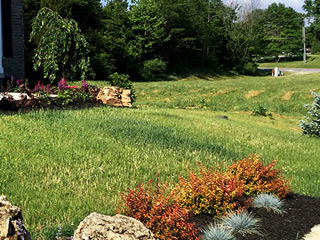 As a homeowner, company owner, or building manager, it is crucial to maintain your garden, landscape, lawn, and surrounding environment. Are landscaping services and lawn care the same? And which services do you need for outdoor maintenance?

At Thrasher Landscaping, Inc., our specialists are knowledgeable in all facets of lawn care and landscaping, but we also prefer to keep our customers informed about our services and procedures. Here are some helpful details about these two services.


What Is Lawn Care?
The term lawn care is quite descriptive, and it encompasses everything that contributes to the maintenance and care of your property's grassy areas. Typically, these duties include mowing, fertilizing, weed management, routine cleanup, and aerating.

A professional landscaping company provides various lawn care services, such as mowing, trimming, spring, and autumn cleanup, pruning, mulching, blowing, edging, weeding, and lawn fertilization. These are merely some of the services a full-service landscaping company provides to residential and commercial clients.

Finding the time to maintain your lawn correctly might be challenging, so hiring professionals for the job is best. They will have the tools, skills, and experience required to tackle these tasks skillfully and to industry standards.


What Is Landscaping?
Landscaping is separate from lawn care. A landscape covers all visible aspects of your property's outdoors and is often evaluated in terms of its aesthetic value. Consequently, your landscape presumably includes your lawn. Landscaping frequently involves planning and arranging the surroundings to make them more aesthetically pleasing.

Typically, landscaping entails the installation of fountains, plants, hardscapes, and other elements that improve the visual appeal of a property. West Michigan's Clark's Landscaping provides comprehensive lawn care and landscaping services. We provide various landscaping services for your site, including hardscape design and installation, landscape design, plantings, lighting, fire, and water features.


Professional Landscape Maintenance
Regardless of the landscape maintenance services you need; you must look for a skilled and certified landscaping company. The professionals will assess your outdoor spaces and work closely with you to understand your objectives before coming up with the best solutions. They will use the best organic fertilizers and pest control products in their landscape maintenance work as that help maintain healthy plants, grass, and trees. A well-established landscaper will also offer lawn care as part of their landscaping plans. However, you can also request them to provide separate lawn maintenance services if needed.

We are a leading company in the industry, providing superior services to our residential and commercial customers. No matter how big or small your lawn care or landscaping requirements are, we can help with the best solutions. Since we adopt a customized approach in all our work, clients get outstanding value every time they hire us.

For the best lawn care in Springville, IN, call Thrasher Landscape Inc. at 812-325-4594. You can also contact us via this Online Form, and our team will call you back soon to discuss your requirements. Our experts can handle all types of landscape maintenance jobs.