Things to Consider Before Choosing a Landscape Contractor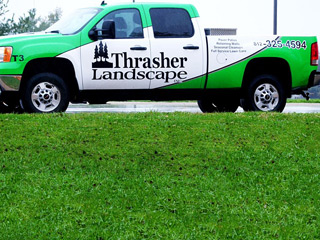 A well-designed and planned landscape can transform a property's curb appeal. It also provides additional space for outdoor recreation, and landscaping increases the value of a home. The advantages of maintaining a landscape are many, but how do you achieve a lush, thriving, green landscape?

All you need to do to accomplish this is hire a reputable landscaping company. Due to the abundance of available options, selecting the best landscaper can be difficult.


Tips For Choosing a Dependable Landscaper
The experts at Thrasher Pavers have compiled these tips to find a dependable landscaper who will treat your home with the same care you would:


Do Your Research
Examine your options for local landscapers and make a well-informed decision. You usually get what you pay for, so be wary of contractors who offer absurdly low prices. Look for companies that have previously provided similar services and can provide solid references from satisfied customers. Verify the business's online presence, including its website, social media pages, and review platforms like Yelp and Angie's List.

Maintain A Few Options There are numerous types of contractors available. Size, cost, availability, and focus areas are just a few examples of where they differ. Landscaping companies go by various names, including lawn care services, landscape maintenance, and landscape design firms. Keep in mind that you must look for all these distinct businesses.


Have A Clear Idea of What You Want
Before speaking with potential landscape contractors, it is essential to have a clear idea of what you want so that you can evaluate their responses to your specifications. Write down all your needs and requirements. By comparing the list and the contractors' services and histories, you can ensure that there is congruence between the two.


Take The Time to Inquire Around
Angie's List and similar platforms have thrived because they make it simple to access honest customer reviews. Discuss landscaping services with your neighbors. Examine the specifics of a negative review to learn from the customer's errors.


Personality Attributes
Even if your landscaper possesses all the knowledge in the world, the process will be lengthy and frustrating if they cannot communicate with you and comprehend your needs. Verify that the contractor you are considering hiring has the necessary expertise, resources, and experience to complete your work. You should not hire a company that makes unrealistic promises.


Other Aspects to Consider While Hiring a Landscaping Contractor
Make sure you are only considering qualified professionals, irrespective of what they call themselves. Consider the following factors when assessing a company's professionalism:
Refund policies that ensure your happiness
Feedback from satisfied customers
Samples of work completed previously
The length of time the business has been in operation
The process will go smoothly if you can find a dependable contractor with the experience and knowledge to make your vision a reality. Our team at Thrasher Pavers understands that to keep your landscape looking its best throughout the season, it must be cared for regularly. To that end, we hope you will consider us as your landscaping contractor.
Call us at 812-325-4594 if you need any help with your project or via this form.