Top 3 Hardscaping Additions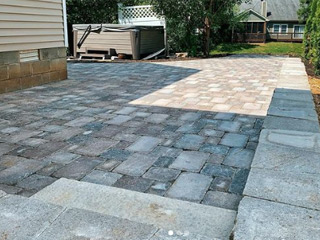 If you want to enhance your outdoor space, hardscaping additions can significantly impact you. Hardscaping refers to the permanent features of a landscape, such as stone walls, patios, walkways, and driveways. These elements not only add functionality but also improve the aesthetic appeal of your outdoor area. At Thrasher Landscape Inc, we offer a range of services and focus on the customization of all types of hardscapes.

Although you can choose from various hardscaping additions, here are the top three to consider for your outdoor space:


Pavers
Pavers are a popular hardscaping addition because they offer functionality and aesthetic appeal. Pavers are made from concrete, brick, and stone and come in various shapes, sizes, and colors.

Pavers can be used for walkways, patios, and even driveways. They are durable and can withstand heavy foot traffic and weather conditions. Additionally, they are easy to maintain and can be replaced individually if damaged.

When it comes to design, pavers offer endless possibilities. You can create a simple, modern look with uniform pavers in a single color or a more intricate design using different shapes, sizes, and colors. You can also add patterns or borders to create a unique look that complements your home and landscape.


Patios
Patios are another popular hardscaping addition that can significantly enhance your outdoor space. A patio provides a space for outdoor dining, entertaining, and relaxation. They are typically made of materials like concrete, brick, or stone.

One of the benefits of a patio is that they can be customized to fit any size or shape. A professional hardscaper can help you design a patio that fits your specific needs and complements the architecture of your home. They can also incorporate other hardscaping elements like retaining walls or fire pits to create a cohesive look.

Additionally, patios can be designed to fit any budget. From a simple concrete slab to an elaborate stone patio with intricate designs, there are options for every budget.


Driveways
A driveway is a practical addition to any home, but it can also be a hardscaping element that adds to the curb appeal of your property. Like patios and pavers, driveways can be made from materials like concrete, asphalt, brick, or stone.


One of the benefits of using hardscaping elements for your driveway is durability. Paver driveways are less prone to cracking than traditional asphalt driveways and can withstand heavy vehicles and weather conditions.


Driveways can also be customized to fit any style. Whether you want a simple, clean look or a more intricate design using different colors and patterns, there are options to suit your taste.


In addition, you can incorporate retaining walls and borders into your driveway design to add visual interest and improve functionality.
Contact The Local Professional Hardscapers
Looking to enhance your outdoor space with pavers, patios, or driveways? Contact us, your proven local hardscapers, for the best installation services. Our team creates beautiful, functional hardscaping elements that will enhance your property's aesthetic appeal and value.

We use only the highest quality materials and pay attention to every detail to ensure your project is completed satisfactorily. For more information on our hardscaping services, call the Thrasher Landscape Inc. team at 812-325-4594 or make inquiries and service requests via this Online Form.